The long-awaited Apple Vision Pro headset has finally arrived, confirming months of speculation and rumors. With its innovative combination of augmented reality (AR) and virtual reality (VR) experiences, Apple's Vision Pro represents a significant leap forward in the world of spatial computing. This groundbreaking device aims to redefine the future of computing, television, and more. In this comprehensive review, we delve into the intricate details of the Vision Pro, exploring its cutting-edge features, captivating functionalities, and potential impact on various industries.
Unveiling the Vision Pro: A Bold Price Tag and Limited Availability
With much anticipation surrounding the Vision Pro, Apple confirmed that it would come with a hefty price tag of $3,499 upon its release in 2024. This price exceeds initial rumors, making it a luxury item for early adopters. The device will initially be available for purchase in the United States, with plans for expansion to other countries in subsequent years. Apple also announced that select Apple Stores will offer hands-on demos of the Vision Pro, providing an opportunity for potential buyers to experience this groundbreaking technology firsthand. However, availability outside the US remains uncertain, potentially requiring interested individuals to make an additional investment in travel expenses to experience the Vision Pro.
Design and Technological Marvel: Unpacking the Vision Pro's Hardware
While initial impressions of the Vision Pro's design may be subjective, it is undeniable that this headset is packed with advanced technology. Resembling a pair of ski goggles, the Vision Pro boasts a 4K display for each eye, delivering a combined total of 23 million pixels. This high-resolution display promises an immersive visual experience, ensuring exceptional clarity and detail. Complementing the display are three-element lenses and a comprehensive suite of 12 cameras that accurately track hand and eye movements, enabling seamless controller-free operation.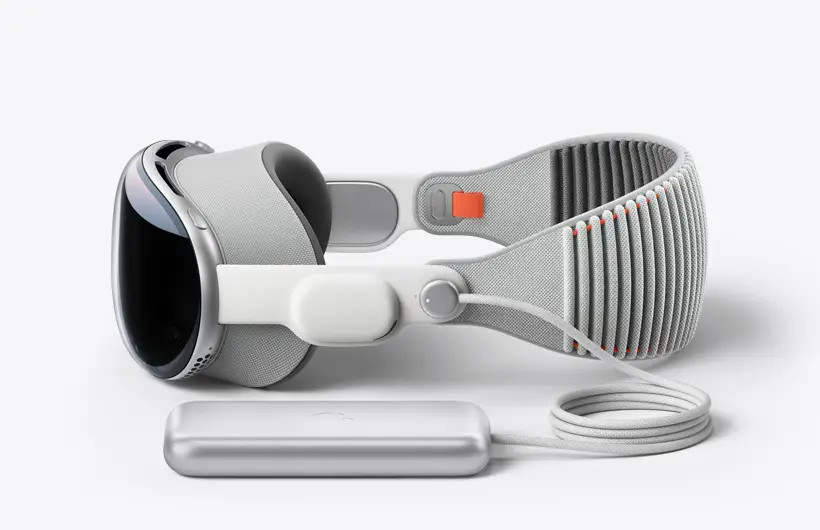 To handle the intensive computational requirements, Apple has equipped the Vision Pro with the formidable Apple M2 chip, which powers its latest laptops, along with an additional chip called the R1. The R1 chip specializes in real-time processing, addressing the latency issues that have plagued similar headsets in the past. By eliminating lag, Apple aims to provide users with a comfortable and immersive experience that can be sustained for extended periods.
Inclusivity for Glasses Wearers: Apple's Collaboration with Zeiss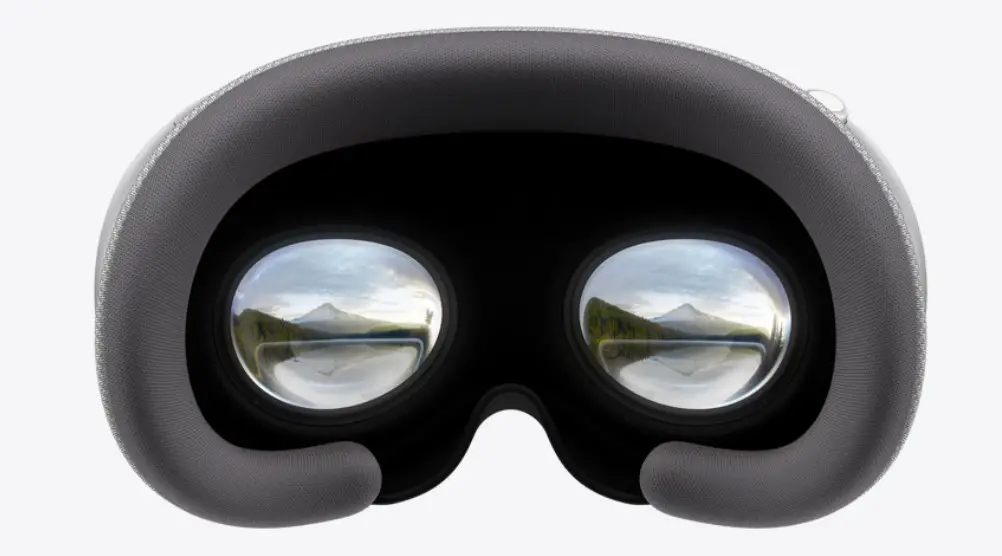 Recognizing the importance of inclusivity, Apple has partnered with lens giant Zeiss to develop custom optical inserts specifically designed for the Vision Pro. These inserts magnetically attach to the headset's lenses, enabling individuals who wear glasses to fully enjoy the immersive experience without compromising visual clarity or the headset's eye-tracking capabilities. Although pricing details for these lenses have yet to be announced, their availability suggests Apple's commitment to ensuring accessibility for a wide range of users.
Revolutionary Control System: Eyes, Hands, and Voice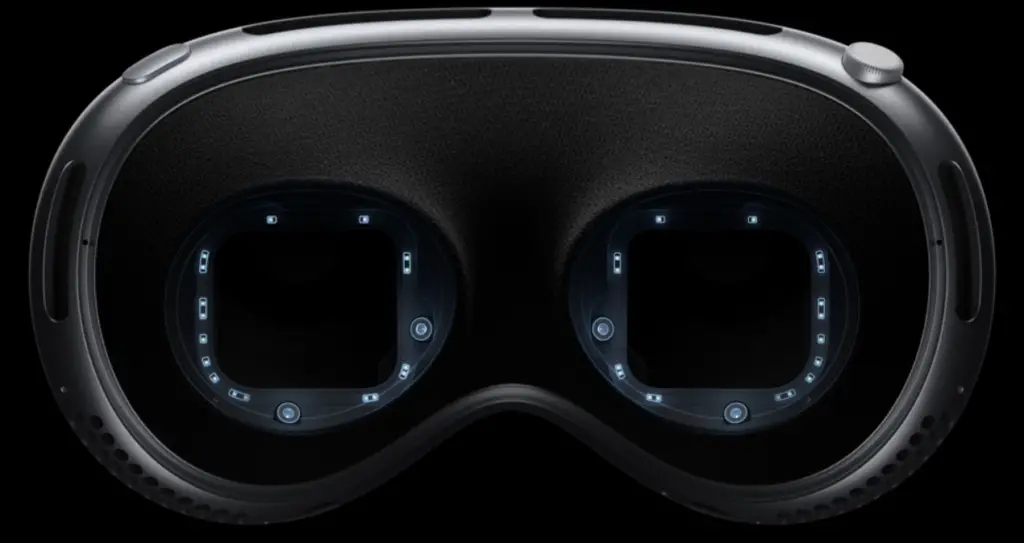 One of the most distinctive features of the Vision Pro is its control system, which operates entirely through eye movements, hand gestures, and voice commands. The visionOS operating system, specifically designed for AR headsets, presents users with a familiar grid of app icons that come to life when looked at. By tapping their fingers together, users can select various options, while gentle flicks facilitate smooth scrolling through lists and menus. Apple claims that this intuitive control system creates an experience where "your mind is guiding the experience," resembling the futuristic interface depicted in the movie "Minority Report." However, the practicality and effectiveness of this control system will need to be thoroughly tested beyond the limited hands-on demos conducted thus far.
EyeSight: Revealing Your Digital Eyes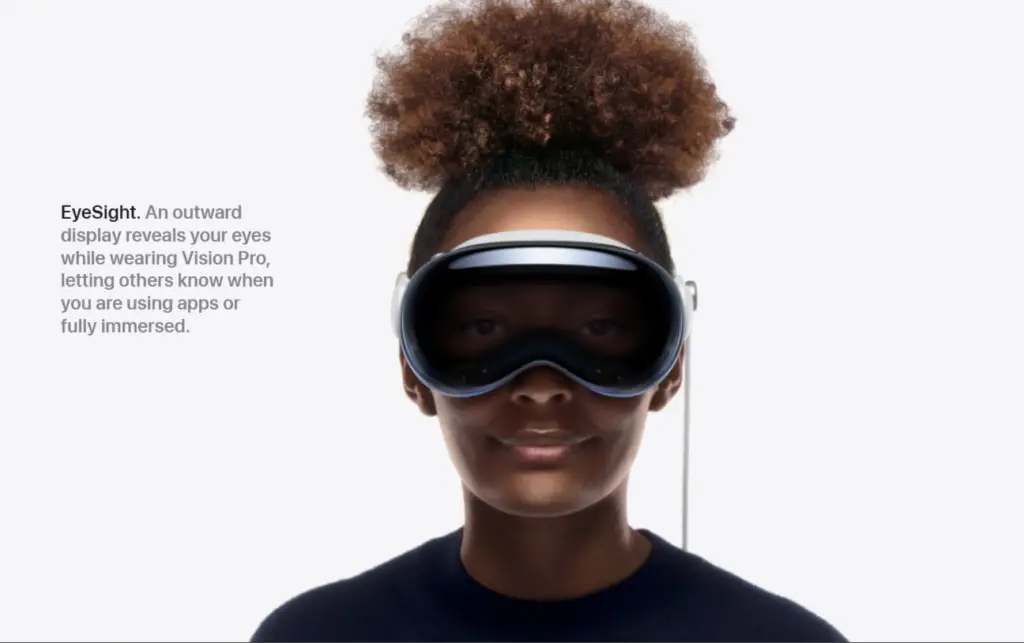 A unique and somewhat controversial feature of the Vision Pro is EyeSight, which displays the user's eyes on the exterior of the headset. The purpose behind this design choice is to introduce a human element to the device and facilitate a more natural interaction with others. As users focus on different virtual environments, the EyeSight display changes, providing cues to those around them regarding their level of immersion. While Apple claims this transparency enhances social interactions, concerns have been raised regarding privacy and the potential for unauthorized monitoring.
A Diverse and Expanding App Ecosystem
To unlock the true potential of the Vision Pro, Apple has cultivated a robust and diverse app ecosystem that caters to both productivity and entertainment. Users will be able to browse the web, utilize note-taking apps, and access familiar favorites such as Messages and Keynote in an augmented reality setting. Moreover, the Vision Pro seamlessly integrates with other Apple devices, allowing users to receive and interact with 3D objects sent via Messages. FaceTime, Apple's video calling platform, also receives a significant boost, enabling enhanced experiences through the use of digital avatars and immersive backgrounds.
Apple's commitment to expanding the app ecosystem is evident through collaborations with content providers such as Disney. As a result, Vision Pro users can enjoy an extensive library of 3D movies, access over 100 Apple Arcade games, and explore exclusive partnerships with iconic brands like National Geographic and Marvel. These partnerships promise a captivating array of interactive and immersive experiences that redefine the boundaries of entertainment.
Beyond the Headset: Vision Pro as a Virtual Monitor
The Vision Pro transcends its role as a standalone device by introducing a virtual monitor functionality that enables users to extend their workspace. By connecting the Vision Pro to a MacBook, users gain access to a large, high-resolution 4K display that hovers above their laptop. This virtual monitor feature offers increased productivity and allow for the creation of seamless multitasking environments without the need for physical external displays. This innovation is likely to attract professionals in various fields, including designers, developers, and content creators, who will benefit from the additional screen real estate.
The Vision Pro as a TV Replacement: Immersive Entertainment at Home
Apple's aspirations for the Vision Pro extend beyond computing, positioning the headset as a potential replacement for traditional televisions. The headset boasts a 100-foot display with accompanying spatial audio, offering users a captivating and immersive viewing experience. The Vision Pro supports 3D movies and leverages Apple's partnerships with content providers to offer a vast selection of entertainment options. With seamless integration into Apple's ecosystem, users can effortlessly access their favorite shows, movies, and games, providing a truly interactive and immersive entertainment experience.
Expanding Boundaries: The Vision Pro's 3D Camera Capabilities
Not content with revolutionizing the AR and VR experiences, Apple has equipped the Vision Pro with its first-ever 3D camera. This camera enables users to capture photos and videos in spatial 3D, allowing for a new level of creative expression. By leveraging this unique feature, users can immortalize their experiences in a more immersive and captivating manner, sharing them with friends, family, and followers who can then appreciate the content in a 3D environment.
Comfort and Fit: Modular Design and Adjustability
To ensure optimal comfort and fit for a wide range of users, Apple has designed the Vision Pro with modularity in mind. The headset's flexible straps and adjustable light seal cater to various head sizes and shapes, promising a comfortable and secure fit during extended usage. Additionally, the modular design allows for interchangeable components, ensuring a personalized experience that aligns with individual preferences.
Conclusion
The Apple Vision Pro headset represents a significant leap forward in the realm of mixed reality. With its cutting-edge hardware, innovative control system, and diverse ecosystem of apps and content partnerships, Vision Pro aims to redefine the way we compute, consume media, and interact with our digital environments. While the device's price tag and limited availability may limit initial adoption, it undoubtedly lays the foundation for a future where spatial computing becomes an integral part of our daily lives. As we eagerly await its release, Vision Pro promises to captivate and inspire, pushing the boundaries of what we thought was possible in the world of technology and entertainment.
Also Read: Meta Unveils Quest 3 VR Headset: Design, Features, and Pricing