MediaTek has recently unveiled its latest flagship chipset, the Dimensity 8200, promising to offer an enhanced performance experience in the next generation of smartphones. The Dimensity 8200 is the latest addition to MediaTek's Dimensity line of chipsets, which are known for their impressive performance and efficiency. The new chipset brings with it a host of improvements and features that aim to provide a more seamless experience for smartphone users.
One of the key highlights of the Dimensity 8200 is its 4nm process technology, which makes it more power-efficient than its predecessors. The smaller process node translates into lower power consumption, which means better battery life for smartphones. The chipset also comes with an octa-core CPU that includes one Cortex-A78 core clocked at 3.1 GHz, three Cortex-A78 cores clocked at 3.0 GHz, and four Cortex-A55 cores clocked at 2.0 GHz. This configuration allows for smoother and faster performance, even when running multiple apps simultaneously.
The Dimensity 8200 is also equipped with an advanced Mali-G610 MC6 GPU, which promises to deliver an enhanced gaming experience with the help of MediaTek HyperEngine 6.0 Gaming Technologies. However, this GPU has six cores but its HyperEngine 6.0 technology ensures a significant improvement over the previous generation's GPU. The result is a smoother graphics rendering and more efficient power usage, even during intensive gaming sessions.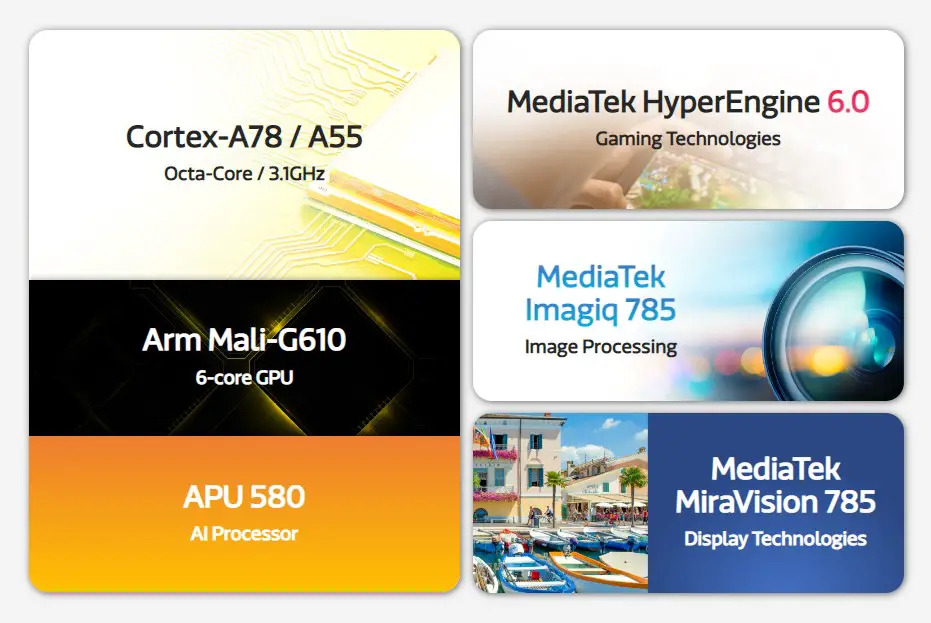 One of the most significant improvements with the Dimensity 8200 is its 5G capabilities. The chipset supports both Sub-6GHz and mmWave 5G bands, allowing for faster download and upload speeds, improved latency, and more reliable connectivity. The chipset also features MediaTek's 5G UltraSave technology, which optimizes power consumption by adjusting the modem's power consumption based on network conditions.
Another notable feature of the Dimensity 8200 is its support for high-resolution displays. The chipset can support displays with up to 2K resolution and 144Hz refresh rate, providing a more immersive viewing experience. The chipset also supports HDR10+ and AV1 video decoding, which enhances video playback quality and allows for better compression.
MediaTek has also improved the camera capabilities of the Dimensity 8200, thanks to its integrated image signal processor (ISP). The chipset can support up to 320-megapixel cameras, as well as multiple cameras and features like 4K HDR video recording, real-time bokeh effects, and AI-based facial recognition.
In terms of connectivity, the Dimensity 8200 supports Wi-Fi 6E and Bluetooth 5.3, offering faster and more reliable wireless connectivity. The chipset also supports dual SIM cards, allowing users to switch between two different carriers or plans seamlessly.
Overall, the MediaTek Dimensity 8200 is an impressive flagship chipset that offers a significant improvement over its predecessors. With its advanced 5G capabilities, high-resolution display support, and powerful CPU and GPU, the chipset promises to deliver an enhanced experience for smartphone users. Nowadays, We can easily see smartphones powered by the Dimensity 8200 available in the market and offering users a taste of the future of mobile computing.