Netflix Password Sharing Alert | Crackdown Begins in US and Worldwide Markets | Netflix Takes a Stand
After a delayed rollout, Netflix's crackdown on password sharing is now starting to reach members in the United States and other countries. The streamer had initially intended to roll out "paid sharing" to U.S. customers in the first three months of this year, but it had to postpone the launch date to the summer after experiencing cancellations in areas where it had already implemented the adjustments. According to the new regulations, Netflix users in the United States will have to either delete people from their accounts or pay $7.99/month for an extra subscription for those who are not in their primary home.
In the upcoming weeks and months, similar reforms will be implemented in dozens more other markets.
The firm provides tools to help current users with this transition. These include facilities to change their password as well as a means to see which devices are logged into their accounts and delete those that shouldn't.
For people who share a Netflix account with someone else, there is a "Transfer Profile" option that will allow them to move their current account data, such as their watchlist and watching history, to their new account.
Netflix told investors that despite some early cancellations, it believes the password restriction would be good to its long-term growth as a company and to its financial health. The feature has been received with strong consumer reaction.
For instance, Netflix co-CEO Greg Peters stated during the company's first-quarter earnings that the outcomes of the password enforcement in its first supported regions resembled how users reacted to price hikes.
On the earnings call in April, Peters said, "We see an initial cancel reaction and then we build out of that, both in terms of membership and revenue, as borrowers sign up for their own Netflix accounts and existing members buy that extra member facility for people they want to share with." Therefore, he continued, "first and foremost, it was a strong validation to see consistent results in these new countries, because there are different market characteristics different from one another and also different from the original Latin American rollout countries."
Prior to earlier this year's expansion of access to Canada, New Zealand, Portugal, and Spain, Netflix had started testing the function in Latin American regions. It will now be accessible in a wider range of international marketplaces, including those in Brazil, Bolivia, Belize, France, Germany, Iceland, Ireland, Italy, the Philippines, Malaysia, Israel, Thailand, Taiwan, Switzerland, Sweden, and other countries.
The corporation may have postponed the crackdown in Q1 so as not to further harm net additions. To achieve a total of 232.5 million accounts worldwide, the business recorded a net rise of 1.75 million global subscribers in the most recent quarter, which was lower than Wall Street's forecast of 3 million.
During results, it also said that it intended to "on or before" June 30 roll out the password-sharing adjustments to U.S. members. It appears like Netflix was able to slightly advance the schedule.
The email will be sent to Netflix subscribers in the US who are sharing their accounts, the company said today on its blog.
"A Netflix account is for use by one household," the firm cautions. Using new tools like Transfer Profile and Manage Access and Devices, everyone residing in that household will be able to enjoy Netflix wherever they are – at home when traveling, or while on vacation, according to the article.
The email itself, with the subject line "An update on sharing," only lists the various choices and directs recipients to additional support materials if necessary.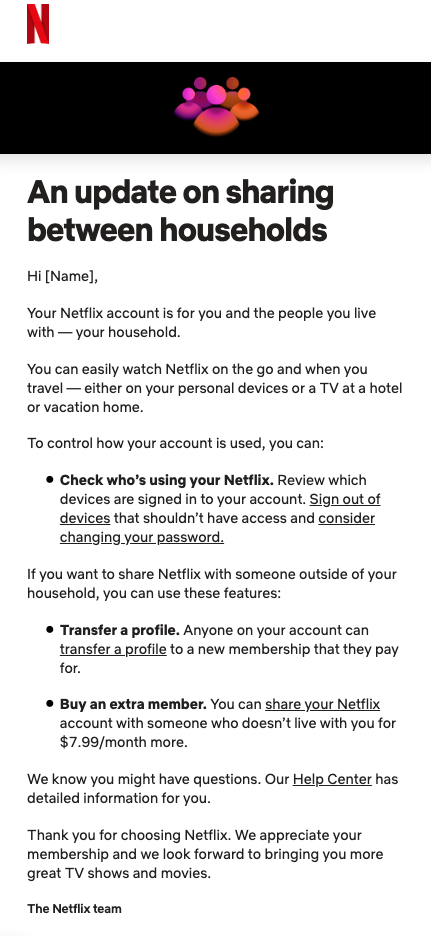 Netflix explains that it is "now starting to roll out updates to sharing to countries around the world, including the U.S." in an email to the press.
Netflix has yet to see the consequences of recovering following a password crackdown in the U.S., its biggest and most important market, where it confronts growing competition for consumers' time and money. Earlier testing suggested Netflix may do so.
The announcement's timing is significant since today, HBO Max becomes Max, a new service that unifies HBO and Discovery+ content under one roof, substantially increasing the quantity of material that is available. The addition of Showtime to Paramount+ will take place on June 27 of next month. Disney has announced intentions to merge Disney+ and Hulu into a single app. Even while certain adjustments could result in price hikes, members receive additional material as a result. While this is going on, Netflix is charging extra for the same thing.
Also Read: Peloton Workout App Relaunch: Introducing Free and Premium Subscription Tiers