Yuzu | Nintendo | Emulator for Android | Nintendo Switch Emulator
Nintendo Switch games have captured the hearts of millions of players worldwide, offering unique and captivating experiences. But what if you could enjoy these beloved games on your Android device? Thanks to the arrival of Yuzu, the official Nintendo Switch emulator for Android, that dream is now a reality. Let's dive into the details of this exciting development and explore how you can embark on a portable gaming adventure like never before.
Say Goodbye to Skyline Emulator and Hello to Yuzu
For a long time, Skyline Emulator held the title as the best Nintendo Switch emulator on Android, allowing users to play a wide range of indie and popular titles. However, the project was abruptly halted due to mounting pressure from Nintendo. But fear not, as the talented developers behind Yuzu have risen to the challenge and announced the official release of their emulator for Android devices.
Early Access: A Gateway to Nintendo Switch Gaming on Android
While the Yuzu emulator for Android is still in early access, this exciting release offers a glimpse into the incredible potential of playing Nintendo Switch games on your smartphone. Keep in mind that compatibility may vary depending on your device, and it's important to manage your expectations accordingly. That being said, Yuzu has already established itself as the go-to emulator on PC for gamers seeking to enjoy their favorite Switch titles on more powerful hardware. The fact that it has now made its way to Android is a game-changer for handheld gaming enthusiasts.
System Requirements: Powering Up for the Nintendo Switch Experience
To embark on this gaming journey, your Android device needs to meet certain requirements. The Yuzu developers recommend a Snapdragon 865 processor or newer (with Snapdragon 8 Gen 1 being the preferred minimum) and a minimum of 8GB of RAM. It's worth noting that devices with chipsets other than Qualcomm, such as MediaTek and Exynos, may face compatibility issues, except for specific cases like the Exynos 2200. Additionally, your device should be running Android 11 or later, and your GPU drivers must support specific Vulkan extensions. Don't worry; the Google Play Store will alert you if your phone falls short of these requirements.
Unlocking Performance: Optimize Your Gaming Experience
The performance of the Yuzu emulator on your smartphone can be further enhanced to deliver a smoother gaming experience. If you have a Snapdragon 8 Gen 1 device, the Yuzu developers recommend installing Turnip GPU drivers, which are officially supported by the Yuzu app. These drivers are designed to optimize performance and provide an even more enjoyable gaming session. Additionally, the Yuzu Discord community is a treasure trove of valuable insights and user experiences, offering a wealth of information on fine-tuning your setup for optimal results. For instance, there are updated drivers available for Adreno 700 devices that can significantly improve performance.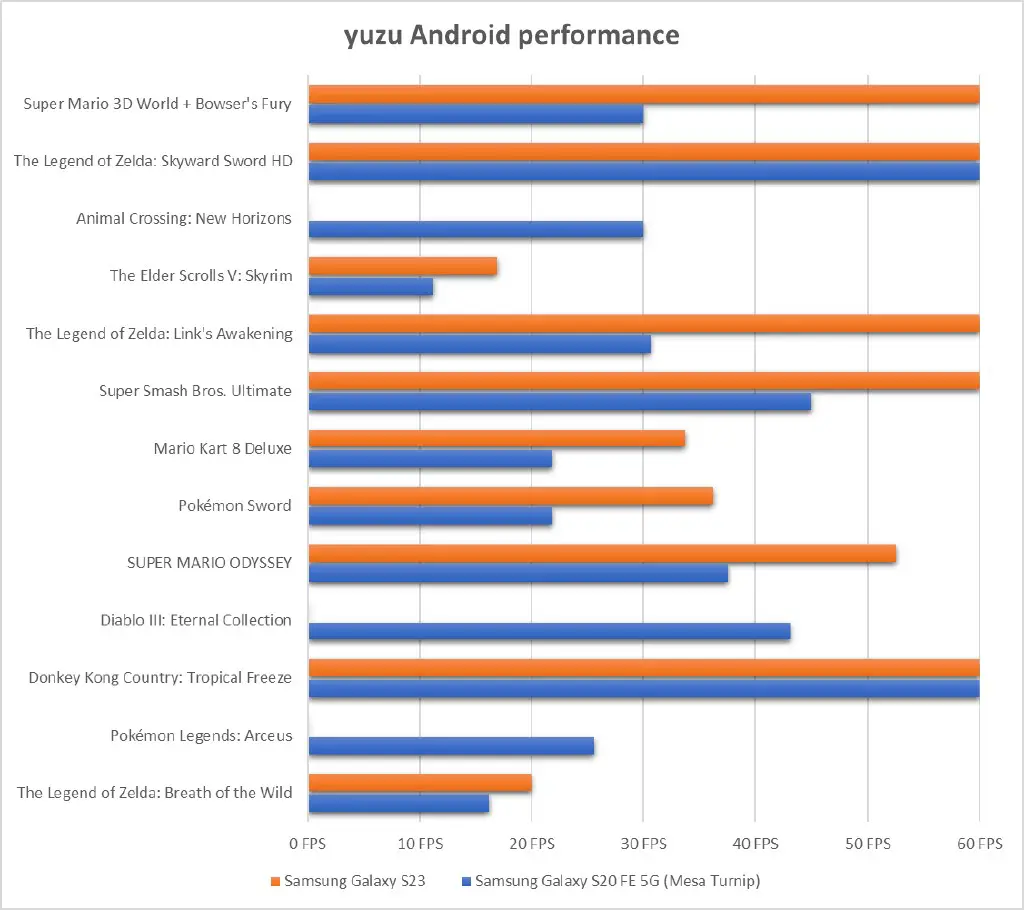 Getting Started: Your Gateway to Nintendo Switch Magic
To begin your adventure with Yuzu, you'll need to gather your own game files and decryption keys from your Nintendo Switch console. Once you have these essentials, head over to the Google Play Store and download the Yuzu app. This user-friendly application will seamlessly guide you through the setup process, prompting you to select the necessary components, including your games folder and decryption keys. Keep in mind that there are two versions of Yuzu available: the regular Yuzu version and Yuzu Early Access. Opting for Early Access requires a one-time payment, granting you exclusive access to new features being tested in advance.
A World of Possibilities in Your Hands
With the official release of Yuzu on Android, you hold the power to unlock an extraordinary world of Nintendo Switch gaming on your Android device. Immerse yourself in the captivating worlds of Super Mario, The Legend of Zelda, Animal Crossing, and countless other beloved titles, all while on the go. Whether you're reliving nostalgic moments or discovering new adventures, Yuzu brings the magic of Nintendo Switch to the palm of your hand.
Please note that while Yuzu is continuously improving and expanding its capabilities on Android, occasional graphical glitches and compatibility issues may arise. The developers are working tirelessly to address these concerns and provide an even smoother gaming experience. Stay connected with the Yuzu community, share your experiences, and witness the evolution of this remarkable emulator.
In conclusion, Yuzu has opened up a new realm of possibilities for Nintendo Switch gaming enthusiasts who wish to carry their favorite titles wherever they go. Take advantage of this incredible emulator, unleash the power of your Android device, and embark on an unforgettable gaming journey with Yuzu. Get ready to experience the magic of Nintendo Switch games in the palm of your hand.
Also Read: How to play Zelda: Tears of the Kingdom on Mac
Also Read: Zelda Tears of the Kingdom Troubleshooting Guide: How to Resolve Launch Issues
Also Read: Unveiling the Secret: Tears of the Kingdom's Most Powerful Ability Remains Hidden
What to Expect from Windows 12: A Sneak Peek into Microsoft's Future

Intel Confirms 14th Gen Raptor Lake Refresh: Everything we know so far
WhatsApp Chat Transfer Feature | How to Use WhatsApp's New Chat Transfer Feature

Project Iris | Google Reportedly Shifts Focus from AR Headset Project Iris to Software Platform